Pathway Through Grief
No longer stuck in the stages, get on the Pathway to Happiness.
Crossing The Emotional Abyss in less then 6 weeks*
Pathway Through Grief ~You can FINALLY have peace, happiness and joy after loss.
When you follow the Pathway Through Grief self - directed video coaching program you quickly obtain...
~ A clear path to hope, happiness, and life across the Emotional Abyss.
~ Peace of mind and heart that your
going to be well,

that you are fine, and that

your life will be better than it feels right now.
~ Clarity to what your loss is and why it is making such a huge impact on your life.
~ Understanding of why you are having brain fog, cycles of depression and joy, and sometimes just want to sleep.
When you step onto the Pathway Through Grief and begin taking control of the emotions and choas associated with loss, you begin to reclaim your life, your hope, your future.
*While I cannot promise you that you will be fully past your grief (we never fully 'get over it' do we?) in just 6 weeks, I can promise yo that in this six seesion program and the Pathway Guidebook activities, you will have come to a much deeper understanding and accetance of the loss, and your new life with it.
Pathway​ ​Through ​ ​Grief ​ ​Self-Directed ​ ​Coaching ​ ​Program

​ ​
6 ​ ​recorded ​ ​modules​ ​coaching ​ you ​ ​in ​ ​the ​ ​healthy​ ​way​ ​to ​ ​heal ​ ​from​ ​loss​ ​and ​ ​understand ​ ​their​ ​your ​ ​grief.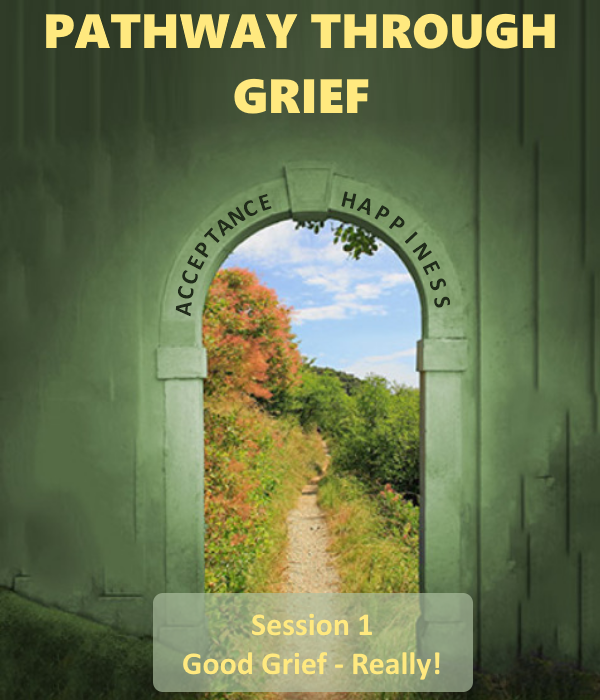 Good ​ ​Grief​ ​-​ ​Really!
Good ​ ​Grief ​ ​-​ ​Really​ ​is​ ​the ​ ​introductory​ ​overview ​ ​of ​ ​the ​ ​Pathway​ ​Through ​ ​Grief.
Discover​ ​what ​ ​Grief ​ ​is, ​ ​and ​ ​what ​ ​it ​ ​is​ ​not.Why​ ​the ​ ​5 ​ ​stages​ ​fail ​ ​to ​ ​bring ​ ​relief.
What ​ ​you ​ ​can ​ ​do ​ ​to ​ ​begin ​ ​finding ​ ​Joy​ ​NOW.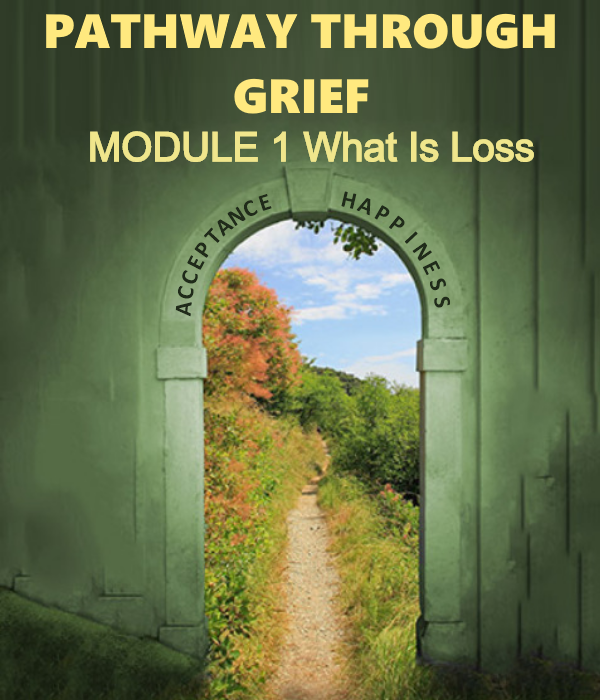 Module 1. Identifying the loss
What are the 4 areas of loss and ho do they impact us?
How are you currently experiencing loss?
What losses have you not fully become a loss manager for?
Understanding the 2 pathways to loss.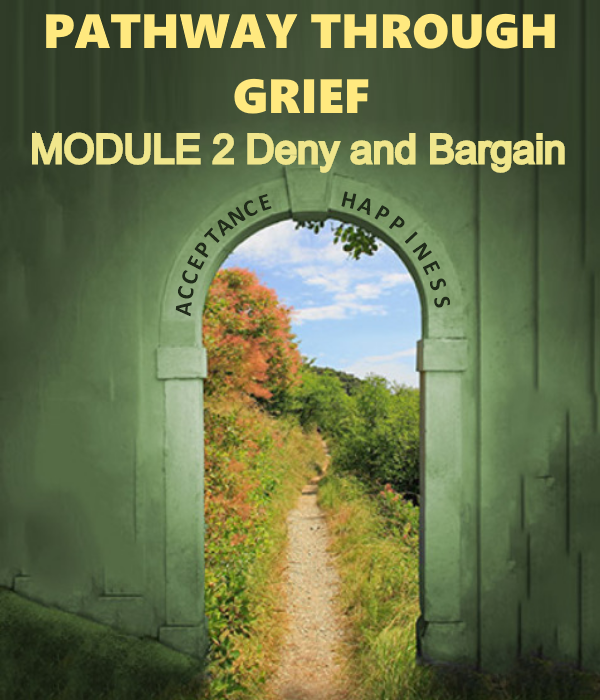 Module 2. Denial and Bargaining
"Have I lost my mind?" When the logic brain turns off.
What it really means to bargain and why we never cut the cord.
How denial is actually good and part of a logical process of survival.
Effective ways to interact when talking to someone in denial and bargaining.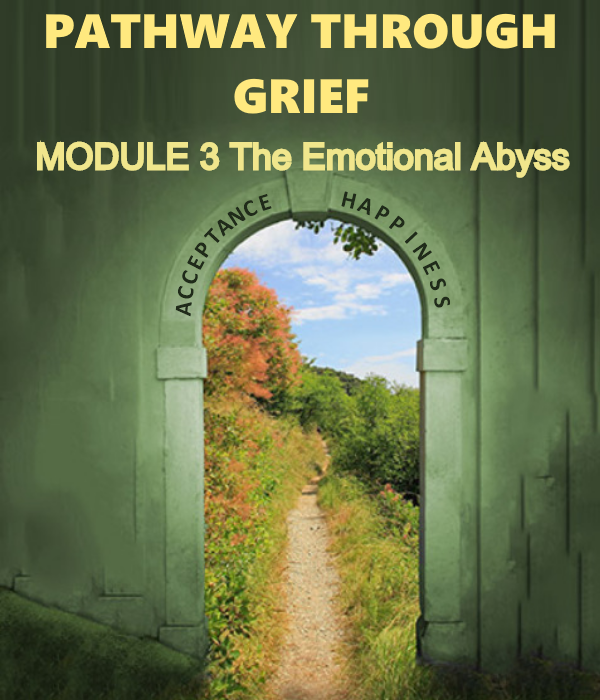 Module 3. Crossing the Abyss
What real emotions are and why we avoid them.
Why damming the emotional flow leads top emotional and metal distress.
The difference between internalized and externalized emotion.
How to identify what is in the Emotional Abyss and how to clear it out.
Module 4. Acceptance of Life With Loss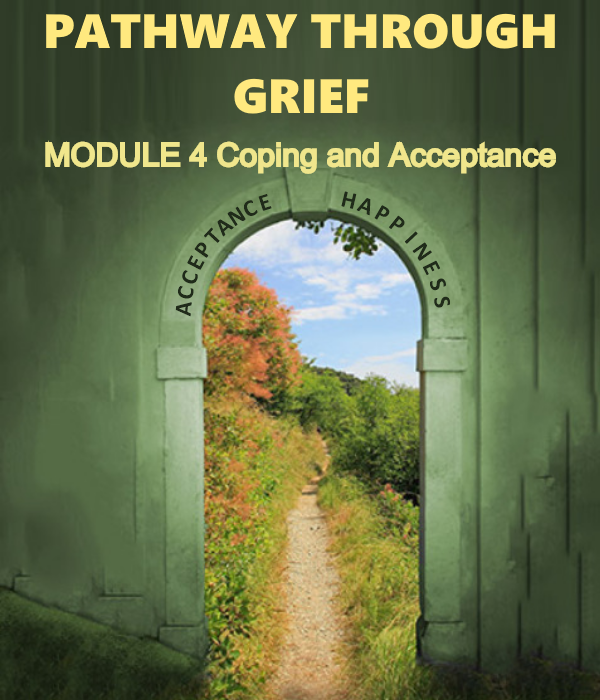 Memorializing and accepting.
When the snow globe finally settle - now what?
Why routines and time are so important.
What it means to "accept" our Life With Loss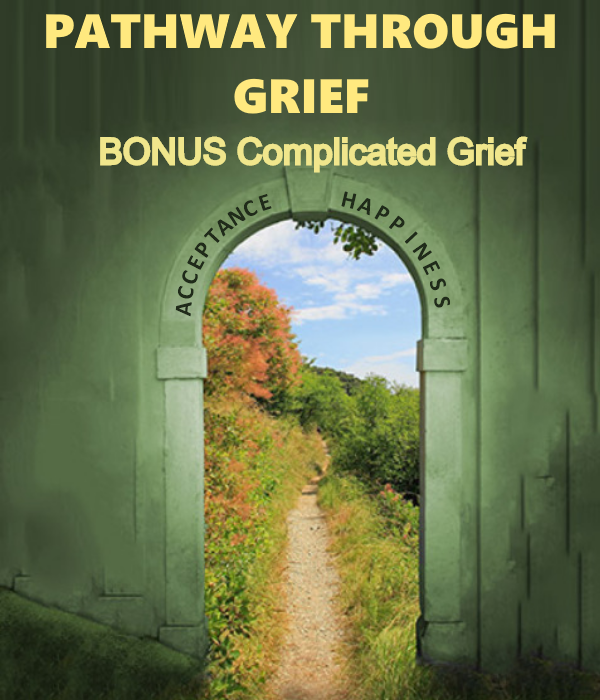 Module 5. When Grief Gets Complicated
How to recognize and stop the bi-polar bargaining that halts movement on the Pathway.
What to do if someone you love is caught in Complicated Grief.
Why Complicated Grief looks so much like mental and emotional disorders.
You also receive:
A Personal Pathway Guidebook to help you identify and process your personal grief experience.
Access to a Pathway Facebook group where others interact and answer your questions.
BONUS 1 ~ The Personal Grieving Inventory to find out how well you, or someone you love is moving through the Pathway.
BONUS 2 ~ 2 eBooks.
1. Good Grief - Really! Discover why so many are trapped in the stages idea and learn how to move foward on the Pathway Through Grief.
2. Tools at 2:00am. Learn how to use three powerful tools to help you in the times of ditress when the brain won't let you find peace. Not just at 2:00am, these tools can be used anytime.
SPECIAL Pathway Only Bonus ~
Grief Recovory Toolkit. This 3 session video coaching session teaches you how to use the Tools at 2:00am and increase the effectiveness of your efforst. This is normally offered for $47 as a stand alone offer, but is included when you invest in the Pathway Through Grief coaching program.
~ Special Limited Bonus ~
A personal 30 minute coaching session with Brett. Brett will reserve time for those who join the Pathway THrough Grief program. You will receive a special coupon to redeam when you are ready for a personal call. Valued at over $100, this session will help you jumpstart your success and happiness.
Brett, has helped me through some long repressed emotions that were holding me back. My businesses were growing rapidly, but I had gone two years without grieving the death of my dad after a drowning accident while we were together with my 8 year old daughter. I had spent so much effort into making sure she was mentally ok that I did not help myself & just threw myself at work. That bottling up of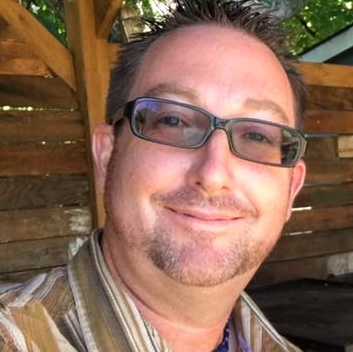 emotions came to an impasse many months later & it was a rough wall to get over. With Brett's help, knowledge of the process I was going through, and also understanding the hardships entrepreneurs go through was the only way I was able to get through that stage of my life.
Nick Burton
growerscoach.com
Get the Pathway Video Coaching Program -
Everything above for only
$497
Just $197.97 single pay or 3 installmensts of $75
Start NOW! And begin finding the peace and light that we are all intended to have.